On our travels back to the East after the Big D in the Desert, Val and I played back to back tournaments in Kentucky. The second event being the Disc 'n Dat Bluegrass Open, one of my favorites due to the courses and the travel vicinity to my parents home in Ohio, an annual tournament that I used to play every year when I lived back home. It is also great to see some old friends that I have not seen in years, great time to catch up on some past DG stories.
We cruised down with the parents and led the caravan with our friends Chris Barbo, Rob Nitzsche and Mel Martin, down to Kentucky on Thursday. It gave us the whole day to practice both courses on Friday to prepare for the tournament. The first course was a past favorite, Banklick Woods, a course that I have not played in over 9 years, back when I won a huge Supertour there playing Advanced AM, great memories on that course. It has a great mix of open to wooded holes with some great elevation changes and a few holes with steep drop-offs with OB water past the basket. All in all a pretty solid course, on a course such as this there was a chance to shoot -24 with every hole being reachable by the majority of the field, a true birdie-fest. Not saying that it was a short course by any means, but there was a great potential to go really low if the putter was hot for a round or two.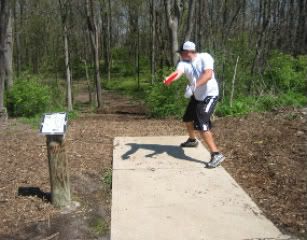 Teeing off on Hole #5 – Banklick Woods
The Pros started out at Banklick Woods on Saturday with 2 rounds of 24 holes. The weather was decent, but the threat of regional showers had us carrying our umbrellas the whole day. At a tournament such as this I was lucky enough to have my good friend Derek "D-Bonn" Bonner drive down from North Detroit to caddy for me the entire day. I started off the first round great, taking birdies on the first 3 holes, but I came into a drought on the some of the wooded holes to follow. There were so many chances for birdie on every single hole, so I picked up a few in the middle of the course and a few more toward the end of the round to finish 65 (-7), not good. David Cox and Matt Blakely had shot the hot rounds with 60 (-12) and 61 (-11) to start the tournament, I had some work to do.
At the start of the second round, the rain started and the wind picked up as soon as 2-minutes was called, definitely not a good sign at that point. I struggled through the second round and just could not get anything going, I could not believe all the birdies that I was leaving out there on such a course. I also knew that if I was not scoring, someone out there was probably tearing it up. I finished the second another 65 (-7) and with a total of -14 on 48 holes. Blakely came in with the hot round of the tournament thus far with a great 57 (-15), giving him a total of -26 for the day, leaving me 12 strokes back. I could never imagine being back by that many shots on such a course after 2 rounds, I was more then frustrated and very angry at that point, I could not have played any worst.
As I was walking up the hill to turn the cards in I noticed a guy setting up a Guts court right out front on tournament central, he was just waiting to get some practice in and he came to the right place. For those that don't know, Guts is a sport played between two teams of one to five players each. The objective is to be the first team to score 21 points. To start play, each team lines up facing each other 14 m apart. Play is accomplished by a player attempting to throw the disc toward or at the opposing team and within the reach of at least 1 player of that team, in such a manner that the opposing team cannot make a clean catch. Scoring is contingent on the success or failure of the throwing team. A good throw, without a catch, results in a point for the throwing team and a bad throw results in a point for the receiving team (gutsfrisbee.com). A very interesting sport, a favorite of mine for the fact that I get to throw a frisbee as hard as possible at someone and try to have them catch it, gotta love that. He was there to have players throw at him, what better place then a disc golf tournament.
As I stepped up, Brad Schick shouted "Avery, Light him up", and I did just that as I really started to unleash some shots on the bulls-eye shirt that he was wearing. He probably caught 3 or 4 of the 50 shots that I threw his way, but throwing into the head-wind was causing a lot of the shots turn over quick, keep in mind that I was throwing 119 gram frisbee. The head-wind was tough to throw into to but it was helping him out because it was slowing down the shots as they were coming in. I had him switch so that I would take the tailwind side and now I had the wind at my back. I started by not throwing as hard and giving him some good practice shots to the body and then picked up the shot speed. Then I started to unleash so 360-turnarounds and at that point he had no chance of catching any of them, he got his hands on a lot of them but was just unable to hold on. He actually had to switch from baseball batting gloves to work gloves because of the toll the discs were taking on his hands. I was more then impressed that was holding up to the abuse, but was always eager for more because thats what Guts is all about. It turns out that he was a past Guts World Champion and it was an honor to gun some shots at him. No better way to uncork some of the frustrations from the golf course. It was a long night thinking about how I was 12 strokes back of the lead, but anything was possible at course that we were playing next.

Disc Golf This Way!
On Sunday morning I was ready to finally start playing some good golf. The second course that we were playing was Idlewild, a course that I heard about for years from lots of people that deemed it one of the favorite courses that they have ever played. It lays out at a total 8220 ft with 10 of the holes being over 400+ feet with many holes being par 4's and 5's for a total par 72. This course is definitely one of the most difficult courses that I have ever played but not for all out distance but because shot placement and positioning was so crucial on this type of course. Although a few holes really gave me the advantage of going over the top and cutting the corners to avoid placement shots and laying up on holes, I hate laying up. Some of the holes had slight elevation changes and lots of different turning fairways that made you really work and manipulate the disc through some tight gaps of many of the par 4's. It was definitely my kind of course, a course where you had to throw big when needed and throw clean drives and upshots in order to score, a battle against par.
I went out there on Sunday morning looking to score, not knowing what was considered a great score. I played solid on the par 4's and 5's, always looking to beat the par for the hole and take advantage of the distance shots when possible. I scored on a majority of the par 3's and went bogey free in the 3rd round to shoot the best round of 64 (-8) beating the whole lead card. The leader shot a 70 (-2) giving me back 6 strokes and cutting the lead in half, now being 6 strokes back on tough course such as Idlewild, sign me up. It felt like a decent round but I knew that I could have played much better and felt like I could have easily scored in the 50's with corrections on a few of the most difficult holes. I moved up to 3rd place at -22 joining the lead card of Matt Blakely -28, Bill Themm -22 and David Cox -21 for the final round. And I being the only Innova player in attendance, I had to represent.
The 4th round started just as the clouds moved into town and delivering a non-stop rain that continued throughout the entire final round. I just kept to the game plan, didn't let the rain effect me and I was set to battle back a amazing comeback. I started off gaining a stroke back on each of the first 3 holes narrowing the lead to 3 strokes, feeling the lead was in reach. I kept the pressure on but it was going to be a hard fought battle to get back into this one. I gained another stroke along the way after a series of birdies and pars by both Blakely and I after the front 9 and only 2 strokes back at the half way point. Hole 10 was 610 ft in length with a huge dog-leg right where most players lay up to the corner at 280 ft. They then line up 90 degress to the right to throw through a narrow fairway to the basket at 320 ft over a hill to the left. I skip all of that hassle and throw a huge flex over the top to the right and try to get one to plane out for a look at eagle or an easy upshot for birdie. The rest of the group laid up and tried to throw the fairway, but not all successful, I took an easy 3 and gained the strokes back to tie for the lead. It was now time to gain the lead and did just that on the next hole carding a 3 while Blakely had some trouble off the tee and produced a 6, giving the first lead of the weekend. From that point on I did not look back and ran through the course never changing the game plan and continued in attack mode throughout the remainder of the round. I was on a mission, I played solid throughout the rest of the round trying to score at every chance possible and finishing strong down the stretch. I ended up shooting a course record 58 (-14) winning by 4 strokes after starting the day 12 strokes back, quite the comeback and definitely my best to date. Blakely was a true sportsman the entire round and congratulated for my play and course record after the round, he finished second for the weekend.
I had a blast in Kentucky all weekend hanging with my family and friends. It was great to play some sweet courses and it felt even better to pull off the comeback and come out on top at a PDGA Supertour. I wanted to thank Rob's good friend Hutch for putting us all weekend long, good times out on the farm. Looking forward to coming back to Kentucky again to play their amazing events.
Next Tournament: Steady Ed Memorial Master's Cup – Santa Cruz, CA