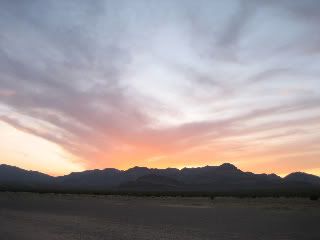 Desert Sunset – Primm, NV
So the Big D in the Desert distance event was more then expected. Val and I arrived early into Primm, Nevada on Thursday afternoon along with Cary Trotter and Andrew Rich, whom drove 19 hours the day before just to make it down to the event. We drove out to the dry lake flats to get in some early throws and practice our distance technique. We were soon joined by the current world distance record holder Christian Sandstrom from Sweden who arrived early as well in order to get adapted to the desert wind conditions. But unfortunately on this practice day there was little to no wind, which was very, very rare this time of year and the wind did not arrive until later that evening. The throws were feeling good, good height and power, but I did not try to push it to hard due to a hamstring pull that I experienced the weekend before while practicing. Val also experienced the same type of injury while performing the 360-turnaround a few days before heading out to the desert, so she did not throw at all on Thursday in order to let her body heal. We also took a majority of the day off on Friday, sitting in the hot tub for hours and laying out by the pool soaking up sun.
Later that afternoon we noticed a big group of people out on the Ivanpah Dry Lake throwing some shots as the wind just started to pick up speed. We suited up, grabbed our discs and headed out to throw some bombs. I was feeling pretty loose from the hot tub and was ready to unleash some Distance Shots with some winds approaching 20-25 mph. I put up a few shots that caught and rode out full flights but still needed to carry further. I then started to really get over on a few and made sure to release them with a lot more height. I then put up a shot at 60 feet and crushed a 165 DX Destroyer, caught a full flight, pushed forward and rode out all the way until it hyzered back at the end. Christian "Max" Voight was at the other end on the field and measured it using a laser range finder from the spot where the disc hit the ground back to where we were throwing from. He later told me that shot was measured at approximately 255 METERS, breaking the longest recorded throw by 5 meters at around 840 feet. It was at that moment I realized that the world distance record, which I initially thought was totally untouchable, was well within reach. That throw could not be counted because it was not recorded during an official throwing distance set, but I was capable of doing that again and I was looking forward to the next day of throws knowing that it was all possible.
I was more then pumped up on Saturday morning, this was a long awaited day, the day I have been looking forward to for a long time. The competition did not start until all most noon to let the winds pick up and offer some consistent disc carries. There was competitors from all over the world from Finland, Sweden, Germany, Japan and Taiwan. The big names in distance were Christian Sandstrom, Christian "Max" Voight, Erin Hemmings, Jack Cooksey, Sam Ferrans, Marc Jarvis, Jussi Meresmaa and the women's record holder Jennifer Griffin. It was an all-star crowd of competitors from all over competing for multiple world distance records in various divisions. I was given the chance the first round to mark for Junior phenom 12-year-old David Wiggins Jr as he broke the World Record at 171 M. An amazing throw to witness at the other end of the field.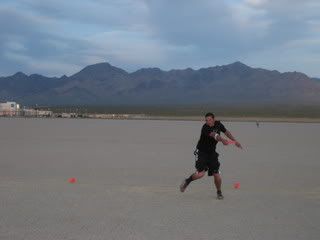 200 Meter Club
I went out there not expecting much the first round of throws, I was going there to put out a mark and get some recorded distances before really throwing down some shots in the later two rounds of the day. I was feeling kind of tight and not really that warmed up at the moment, on top of that I still felt full from breakfast and coffee. So the first round I was placed in the last set with Sandstrom and Voight, the big guns. I was just trying to throw smooth and hit some angles at a good height of release, not trying to throw to hard or kill the disc at all. But I threw some bombs and ended up throwing the best set of drives all weekend long, throwing 210 M, 210 M and 212 M, with the 212 M being my personal best distance ever at 695 feet. Awesome! I just wanted to get into the 200 Meter Club and I was added as the 10th person to ever break that mark. That throw also got me on a short list of throwers into the 6th spot on the longest distance throwers ever recorded just ahead of my distance idol Scott Stokley at 211.32 M. Sandstrom had the longest recorded throw of the day at 215 M and Hemmings edged me out for the second longest at 213 M, I am still waiting for the complete revised list to be posted. In the later rounds, I threw 195 M in the 2nd round and 190 M in the 3rd round to finish right behind Sandstrom by 5 meter in cumulative distances on the day. Val had some great throws on Saturday afternoon with her longest being 132 M, 7 meters off the current world record, but she was capable of throwing so much further. There was still one more day to do it up.
On Sunday Val came out to field focused with only one goal in mind, the record was bound to belong to her. During the Semi-finals, the conditions were ideal and she was more then ready to go long. On her 3rd throw she caught the shot she had been waiting for all weekend, as I watched do a full fly out and flight as it continued to push forward with incredible speed and glide. It was with that throw she had broken and set the new Women's World Distance Record at 148 M (485 feet) with a 157 DX Wraith, becoming the first to hold a World Championship and Distance Record at the same time which had never been done before. Too proud, she is amazing!
There was a players cut for the top 12 men in order to throw in the Quarter-finals, then to the top 8 in the semi-finals and then to the top 4 for the finals on Sunday. I threw 204 M in the morning to qualify for the semis and Marc Jarvis threw a remarkable 226 to make into the 200 meter club, for the longest throw of the competition. In the Semis we did not get as favorable winds as the group just ahead of us as Sandstrom, Hemmings and I struggled to throw anything further then 185 M and only needed 188.5 M to get into the final. It seemed to unreal for the fact that I have not thrown less then 190 M all weekend long, also 3 of the top 4 longest recorded throwers of the weekend were unable to make the finals due to opposite wind conditions and the timing of it all. It was definitely disappointing not to make the finals, I trained to long and too hard for it to go down like this.
So the finalists were Andrew Rich, Juho Parviainen, Jussi Meresmaa and Marc Jarvis. They were all throwing some great shots all weekend, and the Finish came out on top with Jussi winning the title, Juho placed second and Andrew Rich finished 3rd with Marc in 4th. Congratulations to Jussi for winning "The Big D in the Desert" and welcome him into the 200 meter club with throws in the first and final rounds. He threw some amazing distance shots.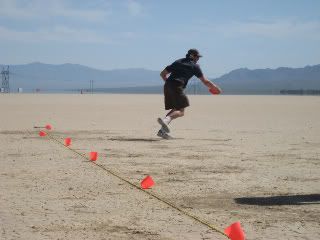 Erin Hemmings – 228 Meters – Monday Record Breaker Day
All in all it was an amazing event, I got to witness some distance world records and it was great to see Valarie reach her goal of claiming the Women's Distance World Record. I look forward to many more Big D in the Desert events and will go out of my way to attend this competition every year.
Next Tournament: Disc 'n Dat Bluegrass Open – Burlington, KY
4/16/08